Welcome to Our Company
Envirozone Middle East L.L.C is an environmental company providing state-of-the-art solutions for Ambient Air Quality Monitoring System (AAQMS), Continuous Emissions Monitoring Systems (CEMS), Predictive Emissions Monitoring Systems (PEMS), Water Quality Monitoring Systems and Noise Monitoring Systems for environmental compliance (EPA/EAD), process monitoring/optimization, and emissions testing applications. Envirozone is also active in environmental consultancy services including dispersion modeling.
Envirozone offers a wide range of analytical solutions for various environmental projects, including multi-gas analyzers, discrete analyzers, particulate monitors, flow monitors, noise monitoring terminals and water quality monitoring sensors and consultancy services such as dispersion modeling, Environmental Impact Assessment (EIA) and Environmental Management Plan (EMP) etc.
Envirozone provides a full range of services from project conception to after-sales service and support for pre-engineered and custom integrated systems. AbuDhabi headquarter is a home for our Sales, Engineering, Production, Quality Control, Finance and Project Support Teams. Our state-of-the-art facility enables Envirozone to house an extensive spare parts inventory, and handle multiple projects simultaneously.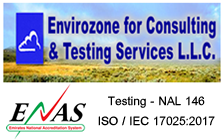 Envirozone for Consulting & Testing Services L.L.C.
Accredited according to the ISO/EIC 17025 Standard to undertake tests as specified in the Accreditation Scope.